Press Release
A Growing Pandemic We Cannot Ignore Anymore, Why We Must End Hate Speech now
20 June 2022
By Seraphine Wakana, UN The Gambia Resident Coordinator, on the occasion of the first International Day to Counter Hate Speech
Freedom of opinion and expression are key pillars of human rights and are essential in thriving democratic societies.  These core freedoms support other fundamental rights, such as the freedom of religion, the right to peaceful assembly and the right to participate in political and public affairs. The evolution of social media has contributed to strengthening and promoting the right to seek, receive and impart information and ideas. However, this evolution has also been accompanied by a more sinister trend — an increase in hate speech both online and offline.
Like in many other parts of the world, hate speech is a serious human rights concern in The Gambia. Hate speech fuels prejudice, poisons debate, and creates a toxic atmosphere that may lead to polarization and division within societies. This is especially true during election campaigns, when passions run high and inflammatory language and hate speech become more prevalent.  It is quite evident, however, that people who resort to hate speech to gain political advantage betray the weakness of their own political ideas and, in so doing, weaken the fabric of a democratic society. 
We must cease all forms of discrimination and hate with more progressive policies and initiatives from diverse stakeholders in society. Hate speech threatens to undermine the numerous efforts that have been made to curb inequalities, promote peaceful coexistence and human rights, and advance the political participation of women across all sectors of governance.
During the last presidential elections, the candidates were uniquely receptive of the UN's support and commitment to mitigating hate speech within the political forum and promoting peace building.  The UN supported the Inter-Party Committee to organise a high-level "National Stakeholders' Forum on Peaceful & Credible Elections in The Gambia" in advance of the election and to persuade political leaders to endorse a "Peace Pledge" that committed them to highest standards of electioneering, including abstaining from hate speech.  To their enduring credit, and to the satisfaction of international electoral observers, political leaders stood by their pledge.  And when rank-and-file party members engaged in hate speech, party leaders were quick to reprimand them.  The UN also supported the National Human Rights Commission and the Gambia Press Union to train journalists on how to address hate speech in their reporting, while not amplifying its hateful message, and supported the Gambia Press Union to establish the country's first fact checking platform — factcheckgambia.org — to help debunk fake news. 
Hate speech is a virus that is spreading fast and fighting it is everyone's responsibility. This first International Day to Counter Hate Speech, celebrated on 18 June 2022, represents a call to action to address this growing menace. We must take urgent action at local, regional, and national levels to curb the spread of hate speech and to replace it with constructive civil and political discourse. We must commit to promoting initiatives and practices that promote inclusion, diversity, and peaceful coexistence.  We must say #NoToHate.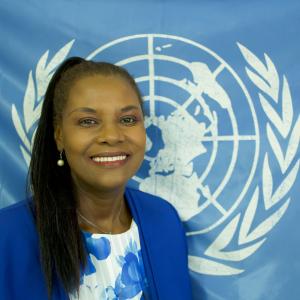 Ms. Seraphine Wakana
UN
Resident Coordinator for the Republic of The Gambia
Ms. Seraphine Wakana leads the UN Country Team to deliver on the UN Development Assistance Framework in The Gambia. She was appointed as UN Resident Coordinator for the Republic of The Gambia in October 2018. Prior to this appointment, Seraphine was UN Resident Coordinator and UNDP Resident Representative in Guinea (2014-2018). She was assigned as Senior Economist, Regional Office of the African Development Bank in the Democratic Republic of Congo (2010-2014) and she acted as the Bank's Resident Representative (2011-2012). From 2006-2010, Seraphine worked as an International Consultant with UNDP, the African Development Bank and the World Bank. She served at the same time as the Honorary Consul of the Republic of Korea in Burundi. Seraphine holds a Master's degree in Development Economics from Brandeis University, Waltham, Massachusetts, USA and a Bachelor's degree in Economics and Administration from the University of Burundi, Bujumbura. She speaks French and English.
UN entities involved in this initiative
RCO
United Nations Resident Coordinator Office
UNDP
United Nations Development Programme
UNFPA
United Nations Population Fund
UNICEF
United Nations Children's Fund