The UN Resident Coordinator Office
The United Nations Resident Coordinator Office supports the work of the UN Resident Coordinator. The UN Resident Coordinator leads the UN country team in consultations with the Government to define and agree on the UN strategic response to the Government's development priorities. This response is captured in the UN Development Assistance Framework (UNDAF) 2017-2021. 
The UNDAF is a medium term results framework that describes the collective vision and response of the UN system to national development priorities. The UNDAF describes how the UN country team will contribute to the achievement of development results based on a common country analysis and the UN comparative advantage. Currently, the UN framework of work for The Gambia is under the 2017-2021 UNDAF.
The office coordinates activities related to common programming including Agenda 2030, joint programmes, joint programming activities and development coordination work. This is done in conformity with the objectives and priorities of the Government, and the mandates and objectives of the United Nations agencies.
The UN Resident Coordinator Office has five core functions:
Strategic Planning
Economics
Partnerships and development finance
Data and results management and reporting
Communications and advocacy
The Resident Coordinator in The Gambia
Ms. Seraphine Wakana (Burundi) was been appointed as UN Resident Coordinator for the Republic of the Gambia in October 2018. Prior to this appointment, Seraphine was UN Resident Coordinator and UNDP Resident Representative in Guinea (2014-2018). She was assigned as Senior Economist, Regional Office of the African Development Bank in the Democratic Republic of Congo (2010-2014) and she acted as the Bank's Resident Representative (2011-2012). From 2005-2010, Seraphine worked as an International Consultant with UNDP, the African Development Bank and the World Bank. She served at the same time as the Honorary Consul of the Republic of Korea in Burundi. 
Seraphine was Minister of Development Planning and Reconstruction (2002-2005) and Chief of Staff with the same Ministry of the Government of Burundi (1997-1999). From 2000-2002, she worked as a Professional Researcher on poverty reduction, public-private sector interface and gender with the Burundi Economic Development Institute in Bujumbura. Seraphine held a series of executive positions with the Institute of Statistics and Economic and Social Studies of Burundi, including as Deputy Director (1996-1997), Head of the Statistical Processing Division (1990-1996) and Head of the Household Statistics Section (1987-1989).
Seraphine holds a Master's degree in Development Economics from Brandeis University, Waltham, Massachusetts, USA and a Bachelor's degree in Economics and Administration from the University of Burundi, Bujumbura. She speaks French and English.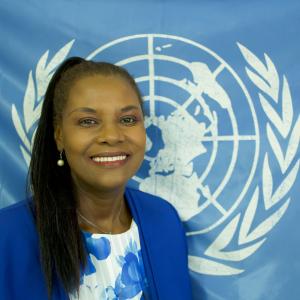 Ms. Seraphine Wakana
Resident Coordinator for the Republic of The Gambia