Press Release
Statement by the UN Resident Coordinator for The Gambia, Mrs. Seraphine Wakana, on the release by the Government of The Gambia of its White Paper on the recommendations of the Truth, Reconciliation & Reparations Commission (TRRC)
25 May 2022
RC Wakana on Govt White Paper 
The UN Country Team in The Gambia welcomes the government's release of a White Paper outlining its approach to implementing the Truth, Reconciliation & Reparations Commission (TRRC) recommendations. 
We heartily congratulate the government, the TRRC, Gambian civil society and all other friends and partners who contributed to reaching this significant milestone in The Gambia's transitional justice process.
The UN will remain a committed partner of the government as it implements TRRC-recommended reforms to promote justice, reparations, reconciliation, and national healing.
We particularly welcome the government's intention to create a Peace and Reconciliation Commission to promote peace and reconciliation and foster social cohesion.  Such an institution should provide an invaluable anchor for the country's national peace infrastructure. 
On Africa Day 2022, The Gambia has provided hope to an entire continent.  The UN is proud to have played a supporting role in getting to where we are today, and we re-affirm our commitment to supporting the government and people of the Gambia.
Statement by the UN Resident Coordinator for The Gambia, Mrs. Seraphine Wakana, on the release by the Government of The Gambia of its White Paper on the recommendations of the Truth, Reconciliation & Reparations Commission (TRRC)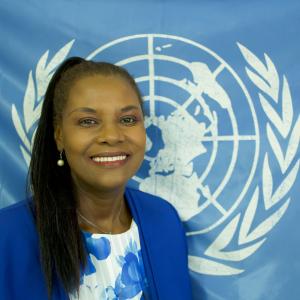 Ms. Seraphine Wakana
UN
Resident Coordinator for the Republic of The Gambia
Ms. Seraphine Wakana leads the UN Country Team to deliver on the UN Development Assistance Framework in The Gambia. She was appointed as UN Resident Coordinator for the Republic of The Gambia in October 2018. Prior to this appointment, Seraphine was UN Resident Coordinator and UNDP Resident Representative in Guinea (2014-2018). She was assigned as Senior Economist, Regional Office of the African Development Bank in the Democratic Republic of Congo (2010-2014) and she acted as the Bank's Resident Representative (2011-2012). From 2006-2010, Seraphine worked as an International Consultant with UNDP, the African Development Bank and the World Bank. She served at the same time as the Honorary Consul of the Republic of Korea in Burundi. Seraphine holds a Master's degree in Development Economics from Brandeis University, Waltham, Massachusetts, USA and a Bachelor's degree in Economics and Administration from the University of Burundi, Bujumbura. She speaks French and English.
UN entities involved in this initiative
RCO
United Nations Resident Coordinator Office