Believe in Better
"I considered running away when I was told that I was to be married off. I was 14 years old and in the 7th grade."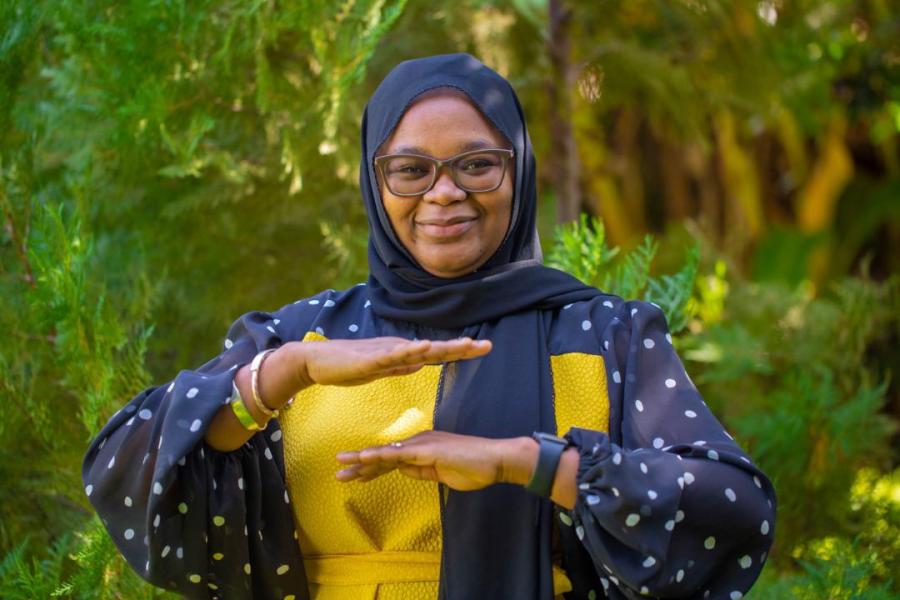 Photo | State of Mic, 2020
Fourteen years later, at age 28, Musu Bakoto Sawo would be appointed the Deputy Executive Secretary of the Truth, Reconciliation and Reparations Commission (TRRC), one of the most well-known truth commissions in the world, tasked with investigating human rights violations committed in The Gambia between July 1994 and January 2017, but also, providing interim reparations, including support services to victims of this period. Many of these victims have suffered inexplicable loss and suffering, a sensation Musu attempts to describe, but falls short of words.
"As a child bride, widowed at 21 with an 11-month-old daughter and no money, I stopped dreaming or believing in any of the things I cared about, especially about advocating for the rights of women and girls. With time however, and some help, I remembered why I cared about advancing the rights of women and girls in the first place. It was never about "me", but always about the cause, and that cause persists."
A few times during the interview, Musu would answer a call to provide what sounded like coded advice; first, on a procurement matter, then on a grant proposal, and at some point, to her 9-year-old daughter on how not to call her when at work, except in cases of emergencies (her brother being annoying not qualifying as one). A regular young woman in many ways, whose passion for a freer, fairer society for women and girls is unquestionable and her authenticity, captivating.
Heads nod around the room as a discussion unfolds about the TRRC's exposure to a myriad of complex social, political, cultural, and economic issues that hinder the realization of women and girls' full potential, including harmful traditional practices, access to quality education and low or no meaningful representation in decision making processes. All present recalled how in October 2019, the Commission was compelled for the first and only time, to issue a public statement, warning against the intimidation and harassment of women who had testified before the Commission on sexual and gender-based violence, and it is agreed that boys and men in general, have not, and more importantly, would not face similar attack in the media for recounting violations of their rights.
Yet the room falls silent again as Musu speaks to her passion, explaining with precision and charm, why the situation of women and girls in The Gambia is really, dire. She gives statistics and recounts personal and professional encounters that have a young man in the room, apologizing on behalf of all men. Most notably, she says,
"I did not run away as a child bride because I knew that those institutions and structures in place to protect young girls like myself would not help me, in fact, they had already failed me. I had friends who ran away from home to a 'supposed' safe space for children, to escape from becoming child brides, only to be returned home by state officials and subsequently married off and shipped abroad."
An hour has passed and Musu apologizes for having to leave, but not without a deep breath and a few words of wisdom.
"It is important to marry ones frustrations and ordeals, with ones opportunities, skills, and interests, to do good. Most importantly, we must believe in positive change and a better society, despite the odds. Thirty years ago, no one was talking about FGM being a human rights violation, yet it is today banned in The Gambia."
Her phone rings and she smiles - her daughter is calling again.
Among her numerous accolades, Musu Bakoto Sawo is recipient of:
Vera Chirwa Award (from the Centre for Human Rights, University of Pretoria) - 2017
Commonwealth Points of Lights for The Gambia from Her Majesty, Queen Elizabeth II – 2018
Inspiring Gambian Award, by the People's Choice Award for Excellence in The Gambia - 2018
UN entities involved in this initiative
OHCHR
Office of the United Nations High Commissioner for Human Rights
UN PBSO
United Nations Peacebuilding Support Office
UNDP
United Nations Development Programme
Goals we are supporting through this initiative